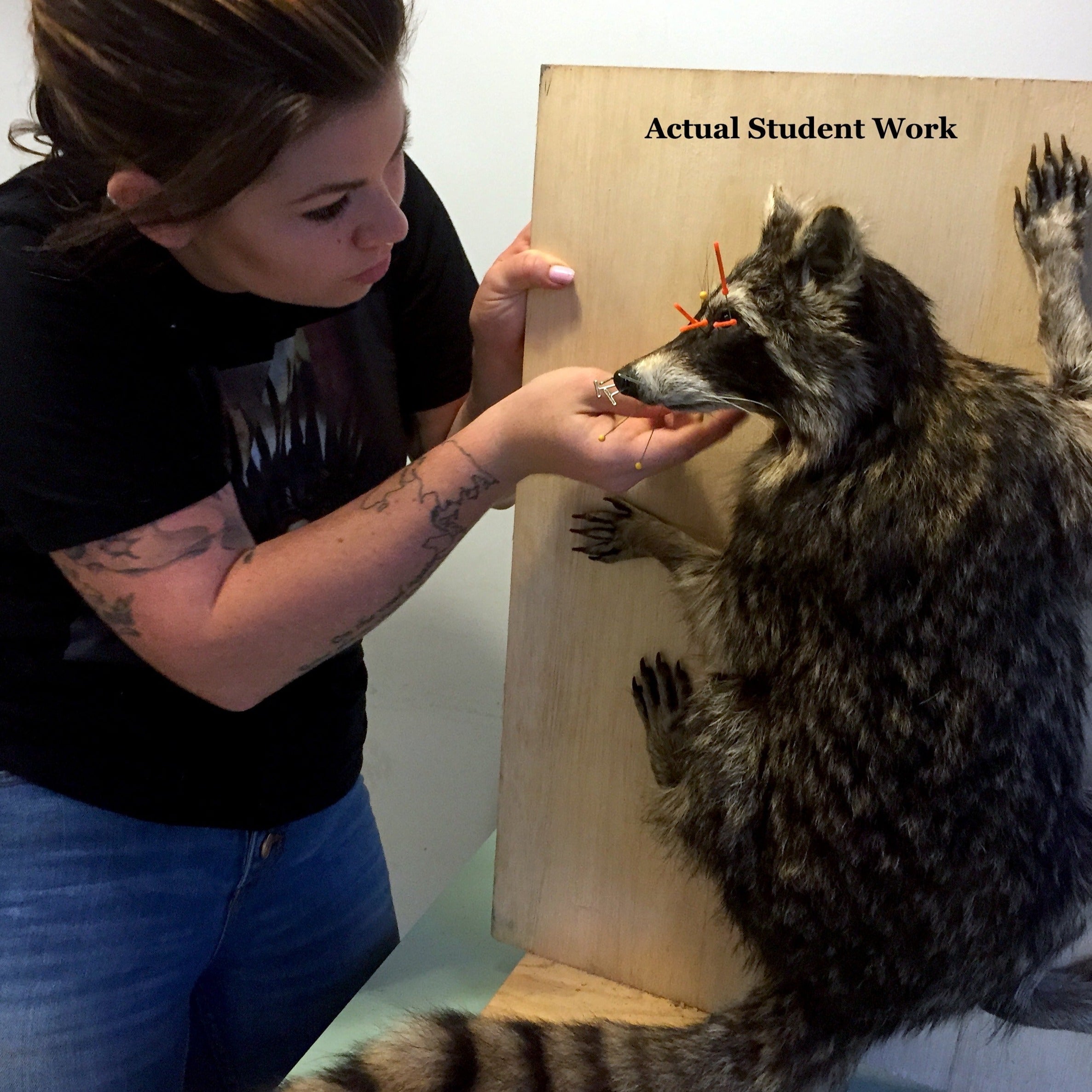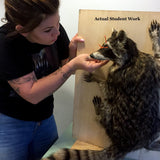 Full Size Raccoon Taxidermy Class
January 20th & 21st
This raccoon taxidermy class is suitable for taxidermy beginners; however, best for students with experience in mammal taxidermy or bird taxidermy and will be taught by master Taxidermist Allis Markham at her studio, Prey Taxidermy, in Los Angeles, California.
In this raccoon taxidermy class, you will use a commercial taxidermy form, create lead ear liners, shape noses, set eyes, tuck eyelids, tuck mouth, and practice the finer aspects of grooming hair/whiskers and those cute raccoon paws we love so much. We will email you a few weeks before class with additional questions about your pose preferences (head turn, standing vs. sitting, etc).
Raccoons are known for their nocturnal behavior, agile climbing ability, dexterous paws, and bandit masks. Understanding Procyonidae anatomy and character is vital to a successful raccoon taxidermy piece.
We will work with raccoon specimens that have been skinned, prepped, and tanned to our standards. Additionally, students will be given information & videos on how to do those aspects independently in the future. Each student will also receive a finishing kit with grooming and painting supplies.
Prey Taxidermy will provide all supplies, tools & raccoon specimens for your classes. Students will be given a PDF of each step,  supply lists, tools lists, and resources that might help them on their taxidermy journey. Videos of skinning faces and tanning skins will also be provided.
We will be working on raccoon specimens collected for pest control/abatement. Because of urban encroachment, these animals have become dependent on humans for food, and their populations have increased beyond what would be natural. These have been removed from the population for those reasons. Their deaths are not related to the art and are simply a by-product of pest & population management.
This is an intensive raccoon taxidermy class, so be prepared to work and focus. We ask that this class be attended only by students 15 years or older-- though exceptions can be made under certain conditions—email info@preytaxidermy.com for details or if you're interested in attending as a younger person.
Students may leave a 50% deposit on this class. Simply enter the code 'RACCOONDEPOSIT' at checkout. We will contact you to pay your balance on or before January 1st, 2024.