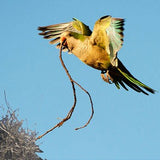 Monk Parakeet - Deposit
Deposit for bird taxidermy on Monk Parakeet 
Three Monk Parakeets are expected to arrive May 2023. Expected completion in December 2023 / January  2024.
In-flight "franken-bird" (Best parts of 3 birds expected) of monk parakeet with the creation of nest. See reference photo for pose and connection to nest. 
Custom UV acrylic and base (TBD size / color/ finish) case will be sourced by Prey Taxidermy.
Shipping TBD to the client. (estimated at $1000)
3% Processing fee for web payment included. 
Cost 50% of $5,308.92 = $2,654.46